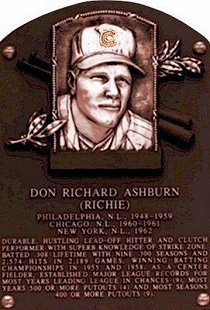 RICHIE ASHBURN SELECTED TO HALL OF FAME
(c) 1995 Copyright The News & Observer Publishing Co.
(c) 1995 Bloomberg

PHILADELPHIA (Jul 27, 1995 - 15:06 EDT) -- Not many baseball players compare to Willie Mays, 
Mickey Mantle and Duke Snider, and Richie Ashburn couldn't either.

It is the only reason the 67-year-old Ashburn can figure it took him so long to get inducted 
into the Baseball Hall of Fame.

"People have told me Mickey, Willie and the Duke were too much competition.  That might have 
been part of it. I don't know if that's fair, but I suppose that had something to do with it," 
Ashburn said.

Ashburn spent 15 years as a center fielder in the National League, twelve with the Phillies, 
winning two batting titles, three hits titles and leading the league in runs four times.  The 
six-time All-Star hit better than .300 nine times and led National League in putouts nine times 
before ending his career in 1962 with the New York Mets.

He was not recognized as a Hall-of-Fame ballplayer until March, 28 years after he became 
eligible.

"I never really gave up hope," Ashburn said. "It didn't look like it would happen, but I 
thought someday it might because the numbers were there."

Ashburn was Rookie of the Year in 1948, a year after Snider joined the Brooklyn Dodgers and 
three years before Mantle and Mays took over center field for the New York Yankees and Giants, 
respectively.

While those three were dueling for home run titles through the 1950s in New York, Ashburn was 
compiling his .308 lifetime average about 80 miles south in Philadelphia.

"They were home run hitters, and I wasn't," Ashburn says. "The only pressure you felt playing 
against those guys was that they were going to beat you."

Mays, Mantle and Snider made 22 appearances between them in the World Series Ashburn made only 
one, and his Whiz Kids were summarily dumped in four games by the Yankees, a year before Mays 
and Mantle entered the league.

Mantle and Mays entered the Hall of Fame in their first year of eligibility, five years after 
their retirement. While Snider, perhaps also hurt by comparison to those two, had to wait 11 
years after becoming eligible.

Ashburn was a broadcaster for the Phillies following his retirement. 

Even with all that time behind a microphone, no one was sure what he would say when he entered 
the Hall of Fame Sunday in Cooperstown, New York, along with former Phillies third baseman Mike 
Schmidt.

He feels his finest attribute during his career was his determination, a trait that must have 
been helpful during his long wait for the Hall of Fame to call.

Ashburn says: "I never walked away from a ballgame, or even an at-bat, feeling I could have 
tried harder. I never felt that I left anything back there."

Now he doesn't have to feel like he left anything to be accomplished after his playing days 
either.

He is no longer the spry young outfielder who chased down balls the way current Phillies All-
Star center fielder Lenny Dykstra does.

He was aged and gray, and happy he lived to see the day he became a member of the same 
Cooperstown club as Mays, Mantle, and Snider.

"You seem to be a better ballplayer after you're dead than when you were alive," Ashburn says. 
"I've waited a long time, but it's the greatest honor a ballplayer can have."